I had a really good conversation on the phone with a potential client's family recently.
A mom called me, recommended by her pediatrician, because her 16-year-old daughter wanted to lose weight. Her daughter has been complaining to her about her weight for the past year and mom thinks she could get a little healthier and feel better.
Sound familiar? It's a common scenario for my nutrition private practice Eat With Knowledge and I want to be honest when I say sometimes I'll work with these clients and sometimes I end up referring them elsewhere.
Why?
My private practice is weight-inclusive and Health at Every Size® informed.
I want to be honest with my potential clients that I can't and don't support weight loss diets because they simply don't work for over 80% of people. (For all the people that love research, this article is where that statistic comes from!)
In fact, many weight-loss attempts "backfire" with people regaining even more weight and developing disordered eating habits–disordered eating is not always what you think: yo-yo dieting, obsessiveness with food, binge eating or commonly referred to as "emotional eating" are all part of this, too.
While this doesn't happen to every single person that goes on a diet, I can safely bet that because of the 80% statistic out there, it happens to most people. I simply cannot practice ethically if I promote weight loss, knowing what I know as a Certified Eating Disorders Registered Dietitian.
I want to make something really clear though: I love health, self-care, and positive well-being.
I absolutely support my clients in making positive changes to their health within their ability and lifestyle. I love thinking about creative solutions with clients to promote behavior changes, wellness, and physical health. Even though I understand that health is not something that everyone HAS to value, I'm so passionate about helping people pursue health if it's a value to them.
Intuitive eating WILL change throughout a person's life and that's why it's always a journey and not a destination.
I'm not anti-weight loss, but anti-the pursuit of weight loss.
When someone practices intuitive eating, 1 of 3 things will happen: they will gain weight, they will lose weight, or they will stay the same. Sometimes I have a "guess" what might happen to a person's weight, but I have been wrong before! I simply cannot predict what happens to weight when a person makes behavior changes because it is out of my control.
So, let's go back to my potential client last week.
When I asked her mom a few more questions I found out the following:
Her daughter has been "trying" to diet for the past year and "has failed."
She has horrible body image, low self-esteem, and mom thinks she spends way too much time on her phone/social media comparing herself to her friends.
Mom reports lots of chaotic eating for the entire family and just wants her daughter to feel better.
After explaining my weight-inclusive nutrition counseling approach, mom was fascinated about intuitive eating and ended up making an appointment for her daughter.
It's important as a healthcare professional that you take some time in an inquiry call to find out if these clients are a good fit for your practice. You don't want to take them without explaining what you do, AND you also don't want to send them somewhere else by saying, "I don't do weight loss" in your very first sentence.
Spend some time working on your inquiry call with clients. Those 5-15 minutes are so worth your time figuring out who your ideal client is and asking the right questions to get them to book an appointment!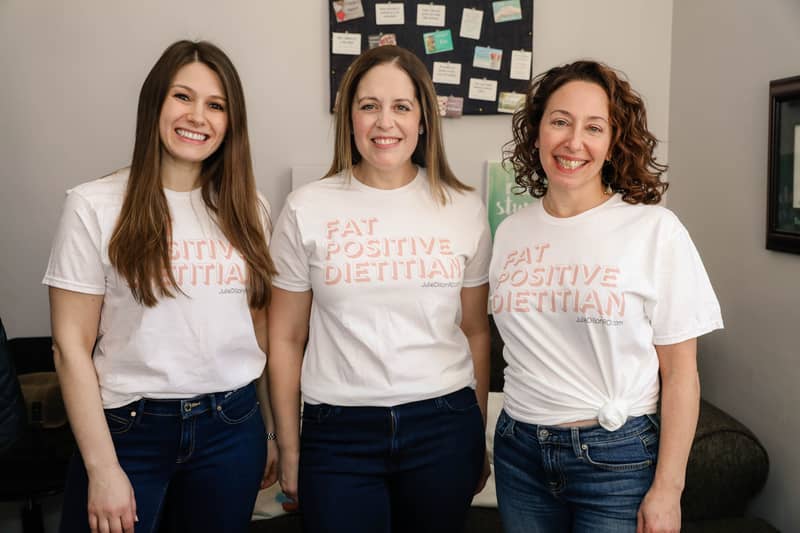 I love these shirts by Julie Duffy Dillon! I know not all clients (and not all professionals) embrace the word "fat" as positive, but the more I learn about fat activism, the more I understand why clients embrace the word "fat"!