No matter what stage you're at in growing your private practice, chances are you've asked yourself the question, "Should I niche down and specialize in one particular area in my private practice?"
Even professionals who have been in business for some time still have questions and concerns about niching down to a specialty area.
This was my biggest mistake when I first started my business. I thought, "Well, everyone eats food and everyone needs to learn about wellness…I can just see everyone!" I quickly learned that this was no way to market myself as a dietitian.
Once I niched down on who I wanted to see in my practice, I got a lot more calls and referrals.
Why? It's impossible to be an expert in everything. You were likely trained in many areas of your profession and feel capable and confident in helping many different types of clients — but that doesn't mean you should see everyone.
Picking a niche doesn't mean that you WON'T address other needs of your clients. Chances are you WILL. Clients are human beings who have a lot of things going on. If you work with humans, you'll never have two clients who have exactly the same issues.
So how do you pick a niche?
As your business grows, you'll start to notice specific issues your clients are experiencing that excite you and those which annoy you. Just through focusing on what really interests you, you can narrow your practice down to what types of clients you WANT to see more of, thus starting to form your niche.
Want to know what my niche is? Chances are you may be in a similar situation if you like the way I explain my nutrition philosophy.
"I help you transform your relationship with food so you can go out and LIVE YOUR LIFE. I practice from a weight-inclusive approach, which helps you with your individual goals in getting the nourishment that your own body needs. In a weight-inclusive approach, the body is allowed to do what it will naturally do as behaviors around food change. I do not focus on weight because when someone heals their relationship with food, some people lose weight, some people gain weight, and some people stay the same.
Rather, I like to talk about what we can control! I recognize that food should be just one important part of your life and I want to make sure that you feel as comfortable as possible with your own personal eating style and your own food philosophy. My counseling style is rooted in flexibility, adaptability, and inclusivity."
I believe that nutrition is personal for every individual. Every client will have a different story to tell with regards to their health, food, movement, and well-being.
I promise to listen to you and your story with no judgment or assumptions and will support you along your journey to better health and well-being, whatever that means for you. We respect all bodies and believe all shapes and sizes deserve respectful care.
I believe in the power of intuitive eating, eating disorder recovery, the Health at Every Size principles, and simply the knowledge that you have about your own body to KNOW what works for you.
I am dedicated to learning more skills, tools, and resources to give to you and guide you to a better relationship with food.
Start thinking about how you might niche down your business into your zone of genius or what really interests you!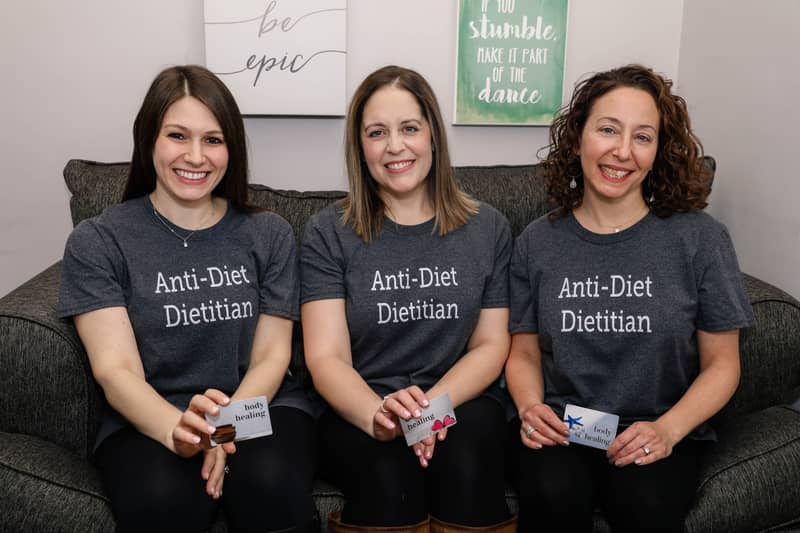 If anything I wrote about my niche really gets your wheels turning, let me know!. I'd love to know about your niche in nutrition and health!!